TuneCore Vs DistroKid
The Battle of the Distributors!
by Sairam Hariharan on Mar 27, 2023
Updated on Jun 02, 2023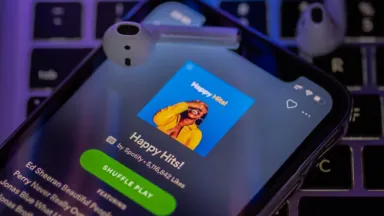 Is DistroKid Better Than TuneCore?
- DistroKid and TuneCore offer similar features, including artist development and marketing tools, and 100% royalty retention. DistroKid's lower pricing plans may be attractive, while TuneCore offers publishing services for an additional fee. The choice depends on individual needs and budget.
One of the hottest topics up for debate in the music industry is how do you choose between the two ground breaking distribution services - TuneCore and DistroKid when they're so similarly structured.
While both let you keep 100% royalties, and have excellent artist development and marketing toolkits, DistroKid might prove to be more cost efficient and effective for a multi-artist plan. However, TuneCore tips DistroKid off by taking care of your publishing royalties for you.
If this all sounds alien to you, don't worry; we've dove deep into the topic to help you determine which one would work best for your specific scenario.

DistroKid vs TuneCore: Distribution
What is Music Distribution?
Music distribution is the process of taking an artist's recorded music and making it accessible to the audience through various means. This holds true for every music shop, whether it be brick-and-mortar or online.
In earlier times, record companies were in charge of the entire process of spotting talent, recording them, manufacturing the cassettes or CDs, and getting them into the stores where they might be sold. However, the advent of digital music and the internet has leveled the playing field, bringing smaller music distribution companies, indie labels, and bedroom producers to the fore.
While most artists are happy about the change of power, these newer distribution platforms like TuneCore and DistroKid still need to be looked through the professional lens of whether they can deliver the results the major labels do or not.
Besides digital distribution to streaming platforms like Apple Music, Spotify, and countless others, distributors also handle the technical issues of encoding and distributing the music. Royalty collection, payment management systems, and setting up analytics, so that artists may monitor their streams, downloads, and earnings, are some of the primary parameters by which you judge an efficient distribution platform.

Things To Consider Before Uploading to a Distributor
Make sure that all of the Metadata you provide to your distributor is precise so that you can release your track on the promised date. For efficient and timely processing, you might want to double-check these before uploading:
Song name

Artist Name

UPC

SSEN

ISRN
What should you not rely on your distributor for?
Distribution analytics:
Distribution analytics aren't their strongest points. So you can't count on your distributor for detailed analysis and spreadsheets regarding your track's performance.


Publishing:
Don't depend on your distributor for publishing. Setting up your own publishing company isn't rocket science. It takes less than $150 to set it up for life and you'll keep all your publishing money from all your releases.

TuneCore, however, offers to collect your publishing for a flat rate of $75 while DistroKid recommends SongTrust and doesn't engage in publishing as of now.
Which Is The Best Music Distributor?
Ultimately, the decision of which distribution service is best will depend on your individual needs and budget. Here are some key factors to consider when making your choice.
Distribution Across Platforms
TuneCore allows artists to distribute their music to over 150 digital stores and streaming platforms worldwide. DistroKid covers all the heavyweights like Apple, TikTok, Pandora, Amazon, Deezer, YouTube, Tidal, and some more additional streaming platforms.
Adding Your Music To Newer Platforms
As there are new stores coming up every year, TuneCore automatically adds your music to them for free. However, with DistroKid, if you're particular about having your music streamed on a newer or niche platform that isn't mainstream, you would have to double-check to make sure DistroKid has you covered.
While this makes no difference to an artist who has got their niche defined within Apple Music or whose music flows well inside Spotify's playlist mechanism, the differences start if you're someone trying to go viral and plant your flag on an upcoming music platform like TikTok's Resso.
For example, TuneCore would get you on Resso for free, while DistroKid would charge $7.95 annually per release to get you on new platforms. This really adds up as say you've got 5 releases coming up this year, and you wan't explore the new platforms, you would end up paying $39.75 to Distrokid, which is more than their yearly fee!
Distribution To Audio Recognition Services
A lot of new music is discovered by people listening to them in social places like clubs, pubs, restaurants, or while driving. Apps like Shazam and Gracenote help audiences track the music they're hearing and in the process, discover you, the artist.
Adding your music to such audio recognition services is a must for any budding artist, and luckily TuneCore does it for free!
DistroKid on the other hand, charges $0.99 per release annually. So say you've got two 12-track albums that you would like to add on DistroKid. It would cost you $23.76 each year to keep your albums getting recognized by these apps. Add a third album in there in the upcoming year and you end up paying $35.64 per year to keep your there albums running
Speed
TuneCore promises to release your track 24 hours after uploading your mastered music and its accompanying artwork. However, actual results state it takes at least two days if not more.
DistroKid makes more realistic claims. They claim to upload to Spotify in 2-5 days and ask for a week's time for everything else.
Ideally, you don't want to mess up your releases, and its best to keep a two-week buffer for both services. There are innumerable times when your artwork isn't probably right, or there are artist duplication issues, or your track's Metadata isn't getting certified.
All these issues cause time delays and it's best to keep a two-week buffer, no matter how fast the distribution service is.
Distribution Winner?
150+ listed platforms with no room for ambiguity, along with free uploads on newer platforms and free distribution to audio recognition services, tips it in TuneCore's favor. However, tons of users have commended DistroKid for its customer service and overall customer satisfaction. So that is something to keep in mind.
DistroKid vs TuneCore: Pricing Differences
How Much Does TuneCore Cost?
Rising Artist Plan
Besides TuneCore's free artist plan, which we've gone in detail later, TuneCore's Rising Artist plan is the entry-level plan priced at $14.99/year. With Soptify's verified artist checkmark, and ability to schedule your single release for a future date, besides streaming to 150+ platforms, you've got quite a bit going on for yourself at 15 bucks a year.
Breakout Artist Plan
However, the one that really catches the eye is the $29.99 Breakout Artist plan. In the age of bedroom producers and multi-project pseudo names, this works best if you've got a solo project, a band you're a part of or have two different avatars that you use for two different genres of releases.
Not only does it becomes ridiculously cheap if you're sharing it with your band, but it brings down customer service response time from 72 hours for the $14.99 to 48 hours for the $29.99 plan.
Though the custom art generators available with this plan might be sufficient for most, some artists with a keen visual eye might spot the 'Stock' nature of the artworks. While it's a great add-on, there are a plethora of creative art generation options available in the market for free. So we wouldn't consider this as a worthwhile add-on.
Professional Plan
With the $49/year professional plan, you could pretty much run a record label. It's an amazing option for a manager to sign up for if they're multiple bands and acts at the same time.
With 'Custom Label Name' active on the professional plan, you can change the 'Distributed by TuneCore' tag. Having your artist name on the 'Source' on the credits page surely makes it look way more professional. The additional features include sessions with a panel of TuneCore experts and other lucrative promotional opportunities and partnerships.
However, if you are running more than five acts or bands professionally, you would most likely be hiring or consulting a professional music business expert for the advice anyways. So we don't see the practical scalability of the plan as it has been described. However, at $49/per year, you can't ask for more!
Is TuneCore Cheaper Or DistroKid?
TuneCore surely works out to be cheaper than DistroKid when you pit them up head to head. TuneCore's Rising Artist plan is $8 cheaper than DistroKid's entry-level Musician plan for $22.99/year. You'll end up saving $10 on the Breakout as compared to DistroKid's Musician Plus and $40 on the Professional one.
If you release on the mainstream heavyweights, then TuneCore saves you $8-10 in comparison to DistroKid. If you're constantly discovering and releasing music on niche or newer platforms, TuneCore is totally made for you, as its completely free!
Look Out For The Social Media Royalties!
However, if social media is your stage, and you've got traction going on there, that's attracting the bulk of your revenue, DistroKid's royalty-free social distribution tips it in its favor.
If you've got strong traction on TikTok, Instagram, or Facebook, it makes no sense to bleed out 20% of your revenue to save $8 on the Rising Artist plan and $10 on the Breakout Artist plan in comparison to DistroKid. DistroKid is surely worth the extra money.
Taking A Cut On Your YouTube Content ID
TuneCore keeps 20% of your YouTube Content ID revenue, while DistrokId charges an additional $4.95/single and $14.95/album on top of retaining 20% of your ad revenue. As it's difficult, if not impossible, for you to personally track all the YouTube videos where your music even remotely featured, its best to sign up for this service.
Due to the organic nature of the propagation of music, most artists don't necessarily pursue a copyright strike, which means you ask the uploader to pull your music down.
They see it as a way of their music being exposed to newer audiences that they couldn't reach. So ideally, a copyright claim is set by your distributor, meaning that you get paid, every time your music is featured on a YouTube video.
This makes the Content ID feature a highly recommended one and TuneCore the most viable option.

While DistroKid has the additional per single/album charges, old-timers like CDBaby charge a whopping 30% on Content ID! If you've got a catchy single that has the potential to sync well with different types of video content, you wan't make sure you've thought your Content ID through before releasing it. 
TuneCore New Artist Plan Free
The New Artist Plan, is essentially free, without any payments when you sign in. It gives you access to YouTube's Official Artist Channel and the ability to upload an unlimited number of songs to Facebook, Instagram, TikTok, and YouTube's music libraries. It also gives you the standard free ISRC code, which almost all distributors do.
However, you need to be careful not to release your best material here if you're working towards a 'Hit' as there is a percentile royalty here - The type you wan't avoid if you have a potential hit/viral track in the making.
The free plan keeps 20% of your royalties and only streams your music to TikTok, Instagram, YouTube, and Facebook. While this might not be the best fit for a professional release, you can use this as a resource for experimentation.
Say, you've got a few hooks or sing-along choruses sketched out for your upcoming album and you wan't do a market test. You could maybe collaborate with a visual artist or release a 30-second version of your chorus or hook as a reel yourself.
Say, three out of twelve reels performed well; you'll have to part with 20% of those earnings, but you'll get a fair idea of what to release as a single, and which ones to keep on the sidelines. It's a lot like how older bands would play their new compositions live and test them in a small gig for audience response.
Pricing Winner?
Winner: Tie
TuneCore's Breakout Artist Plan and DistroKid's Musician plus plan take the game to the wire. They're both extremely competitive plans which balance price and features in an extremely compelling way. Both also have the potential to cut you a great deal or can turn out to be really expensive, depending on your specific scenario.

DistroKid vs TuneCore: Features
DistroKid Extra Features
Leave A Legacy
DistroKid's "Leave A Legacy" add-on feature is a well-thought-of and highly useful plan. Not only does it leave your song on the platform in the case of an unfortunate demise (Hence called Legacy!) it also serves other strategic functions.
Say you decide to switch off distribution services or move to TuneCore or any other upcoming platform with lower monthly rates but higher percentile cuts; it'll be a brilliant financial move to leave your 'hits' on the legacy plan before leaving DistroKid.
For a one-time fee of $49, you've left your hits to continue on the platform without having to pay maintenance. This way, you could always opt for cheaper monthly payment platforms for your lukewarm or cold tracks, while letting your hits bask in the sun.
However, music royalties are a much more complex beast and each track's specific situation would determine whether its a profitable move or not.
TuneCore Extra Features
Pre-Orders
Pre-orders allow you to charge, say, $7.5 for your album before it's official $10 price on the release date. Not only does this create curiosity and excitement, it also makes the experience of owning your music before anyone else, more special for your fans.


What is TuneCore Music Publishing?
A feature that sets TuneCore apart from Distrokid is its publishing division, which monitors your earnings from sources other than streaming. TuneCore offers to collect your publishing for a flat rate of $75.
They will collect performance, mechanical, and other royalties on your behalf, which is a huge help to artists since it may be difficult to keep track of your earnings across multiple releases at the same time.
Although having TuneCore handle everything for you is really convenient, you may want to set up your own publishing company as mentioned before if your needs are specific and your royalty structure is complex.
For example, if you have a large foreign audience, or if you have digital performances, or you're a composer who has their score or lyrics printed in various books, you want to keep a tab on additional royalties.
Additional royalties could include:

Synchronization (Sync) Royalties

Print Music

Lyric Royalties

Foreign Royalties

Digital performance royalties
Opting to join ASCAP, BMI, or PRS to have your back for publishing is another option.
Features Winner?
While TuneCore's publishing is a time saver, DistroKid's legacy plan goes above and beyond just being a cool add-on. With multiple ways of cashing in on it, it surely tips the ball in DistrKid's favor.
DistroKid vs TuneCore: Royalties
How to Build a Social Media CampaignTuneCore offers a shorter payment processing period, with royalties paid out in about 30 days. In contrast, DistroKid's payment processing period can take up to 2-3 months. Additionally, TuneCore offers publishing services for an additional fee, which can help artists collect additional revenue streams from their music. Here are a few additional things to consider to help you decide which meets your needs.
Do you keep all of your royalties?
DistroKid and TuneCore both offer 100% royalty retention to artists. However, there are a few things you should watch out for.
Hidden Fees
While both services claim to let you keep 100% of your royalties; there's more to it than what meets the eye. As distribution services have to cover aggregation costs, in essence, they can't let you keep 100% of the royalties.
TuneCore's fine text states that artists are paid 'Net Income,' not 'Gross Income' from their royalties. They basically pay you the net income received from the consumer stores minus any tax, fee, and expenditures incurred while selling your recording.
Whitelisting
There are times when you've got your own YouTube going on for yourself besides uploading through these distribution services, and you're part of the YouTube monetization structure.
Whitelisting helps you prevent the distribution service from claiming royalties on your own solo content, so you can keep 100% of your money on your private uploads.
TuneCore lets you whitelist your channel by default, without you having to lift a finger. On DistroKid, you would have to sign in, and manually whitelist every video you upload to your YouTube privately.
While this wouldn't be something to think about if you only upload through your distributor, this can be a significant discriminator if you've got solo uploads going on for yourself.
Withdrawal Fees
Fortunately, both TuneCore and DistroKid cap your fees. When the fee isn't capped, you end up paying a transaction fee percentage on the full amount. For instance, PayPal charges 2.9% plus 30c for a transaction. That would amount to $290.30 on a $10000 withdrawal.
Both distributors have capped the withdrawal fee. TuneCore caps it at 25c per transaction while DistroKid caps it at $1 per transaction. The smart thing to do would be let the money accumulate and withdraw larger amounts with a 25c or $1 fee.
However, even with the weekly withdrawals that TuneCore offer, you would end up paying $1 a month for four weekly transactions.
Net Income Royalties Paid To Artist
Here is a quick primer for those who are unfamiliar: 
Net income is what remains after deducting all the expenditures and taxes from the total revenue earned. 
Gross Income, on the other hand, is the whole amount of money earned by a company before any deductions or taxes are deducted.
DistroKid's disclaimer states the same thing but in reverse. They say that we'll transfer 100% of all money we 'Actually' earn and receive, to your DistroKid account. 'Actual' money earned in this case amounts to the 'Net income' again. But on a positive note, TuneCore and DistroKid's fine text is at least clear, while CDBaby's text doesn't completely disclose the nature of their 'additional charges' on their website, leaving the math in obscurity.
So, in essence, you, as the artist are paying for aggregation in one way or the other. So technically, you can never keep 100% of your royalties.
What Happen If I Have A Hit Song?
Great question, and a nice problem to have!
Here's are pro-tip regarding this... Keep you own UPC bar codes!
Both the Universal Product Code (UPC) and the International Standard Recording Code (ISRC) play vital roles in the dissemination of your final recorded music. The proper monitoring and tracking of your music sales and royalties relies heavily on the use of Universal Product Codes (UPCs), which are commonly needed by distributors, streaming services, and retailers. While TuneCore and DistroKid offer UPC codes for free, you can't inject your own UPC codes in them. While most times, you'll be happy that they offer it for free, there are times whe this might work against you.
Having your personal UPC Code becomes a major factor, if you expect one of your tracks to make the charts. You can basically contain the sales for the track and keep it intact. If you're at such a stage, we highly recommend going for CD Baby as it lets you bring your own UPC codes.

TuneCore Royalty Payout
The biggest plus point with TuneCore is that it pays you every single week! While it might not matter to some, having money come into your account, even if it's just $50/week, builds a sense of trust and transparency between you and your distributor. 
Also, having the motto of paying the artist first is a huge step toward building a dignified platform which independent musicians can build long-term relationships with.
DistroKid Royalty Payout
After submitting a withdrawal request, it might take up to two weeks for Distrokid to complete the payment. The revenue statistics from say, June are updated by around the 18th of the next month, i.e. July.
This basically means you won't be able to submit a withdrawal request until these statistics are updated. So you'll probably get paid by the third or fourth week of July for what you made in June. 
Does TuneCore or DistroKid pay more in music royalties?
In a specific case that your music is doing great on social media (TikTok, Instagram, Facebook) but isn't exactly visual in nature (no YouTube content) and if you're primarily selling on Spotify and Apple Music (No niche or newer platforms), DistroKid would end up paying you more. But in every other case, TuneCore is probably going to pay you more.
This is the case as DistroKid charges really steep fees in places like audio recognition and YouTube Content ID. These are the primary grounds of modern music propagation and if your cuts are high in these areas, your royalty payments at the end of the month will look thin.
Who Pays Faster TuneCore or DistroKid?
TuneCore pays artists faster than DistroKid because it has a shorter payment processing period. TuneCore pays out royalties in about 30 days, while DistroKid's payment processing period can take up to 2-3 months.
Royalties Payout Winner?
TuneCore pays faster than DistroKid. Taking into account the whitelisting benefits and that TuneCore charges 25c over $1 transaction fee as well, TuneCore wins over DistroKid by a mile!
Overall Winner in the Battle Of The Distributors!
The overall winner in the battle has got to be TuneCore. Other than the one glaring blunder of charging 20% in the social distribution space, TuneCore has mostly played a fair game.
But as we're also considering CD Baby as an outside competitor in this battle, we have to repeat that CD Baby would be a better candidate for tracks that you expect to chart. While TuneCore and DistroKid cover the UPC, as mentioned before, CDBaby charges an additional $5 per single or $20 per album for having your own UPC. If you'd like additional information on CDBaby, checkout our comparison article  of it vs DistroKid.
As food for thought, we would like to add that the factors to consider when your album is making $5k are very different from when its making $100k. You need to start to look at distributors from a whole new set of lenses, and most likely if you're making $100k on an album, you would have a professional do that for you.

Can You Switch Music Distributors?
To move from one distributor to another isn't that hard. In fact these moves happen all the time.
Say you're in a different distribution platform and decide to sign up with DistroKid today. All you need to do is contact your previous distributor the next day to get those records and accounts erased.
Because of how quickly distribution services can get your music into streaming sites, your albums may appear twice before your previous distributor removes them. This momentary duplication is fine.
Make sure to keep all of the same metadata and audio files that you used with your previous distributor. Streaming services, particularly Spotify will attempt to preserve your play history and playlists in this manner.

Leave a Reply!
I prefer CD Baby over both. But some really good info to consider in this though.

They all get you the same place at the end of the day... Just depends on what your specific needs are and budget.