The 50 Best Jazz Artists Of All Time - Pioneers of Improv
by Band Pioneer on Aug 23, 2023
Who is the best jazz artist of all time?
- Legends like Duke Ellington, Louis Armstrong, and Miles Davis, have left significant marks on the genre. With so many varying styles and influences over the years, picking one is difficult. But our list of the 50 best jazz artists will surely find one that resonates with you!
Jazz is more than just a genre; it's a musical conversation, a dance between the partners of improvisation and self-expression. Born from the roots of African rhythms mixed, and with European harmonies, jazz has evolved into a genre that resonates with audiences across all cultures and generations. It's impact on the world has resulted in countless subgenres, influenced rock, pop, and classical music, and become a symbol of freedom and innovation. The best jazz artists of all time are not just musicians; they're explorers, pushing the limits of their instruments and creativity.

Those highlighted in this article have shaped our understanding of music, culture, and occasionally even contributed to social change. And they've done it with extraordinary talent, from pioneers like Duke Ellington and Louis Armstrong, to modern virtuosos like Esperanza Spaulding and Victor Wooten. They are the lifeblood of jazz, embodying its essence and continuing its legacy.
Who Was the First Jazz Musician?
Buddy Bolden
(1877 – 1931)
Jazz sprouted its roots in New Orleans, Louisiana, during the late 19th and early 20th centuries. In those days 'Nawlins' was a melting pot of musical influences, from blues and ragtime to African rhythms. It was here that a cornet player named Buddy Bolden, born in 1877, gave birth to a sound that many consider the first jazz music. He did it by blending New Orlean's diverse sounds into a new style that laid the groundwork for jazz. Unfortunately, no recordings of his music survived. But Bolden's musical experimentation and unique sound during this time are why many consider him the 'father of jazz', making him a critical figure in jazz history.
Best Jazz Singers of All Time
The human voice has been essential among the best jazz artists of all time since its inception, conveying emotion and storytelling through song. Jazz singing began with the blues and ragtime in the early 20th century and continues to evolve today. The singers on this list have shaped jazz with their unique styles, innovations, and contributions to the genre. While Nina Simone, Louis Armstrong, and Esperanza Spalding are not included here (since they appear in other sections), their impact on jazz singing is undeniable.
Billie Holiday
(1915 – 1959)
Billie Holiday's emotive voice and unique phrasing in the 1930s-50s made her one of jazz's most unforgettable voices. Her haunting rendition of "Strange Fruit" became a civil rights anthem. Holiday's collaborations with Lester Young and her struggles with addiction and racism have been widely documented, adding to her mystique. She passed away in 1959.
Frank Sinatra
(1915 – 1998)
Frank Sinatra's career in the 1940s-90s transcended jazz, influencing popular music. His albums "In the Wee Small Hours" and "Songs for Swingin' Lovers!" are classics, and his Rat Pack shows are legendary. Sinatra's acting career, philanthropy, and connections to political figures add to his multifaceted legacy. He passed away in 1998.
Ella Fitzgerald
(1917 – 1996)
Known as the "First Lady of Song," Ella Fitzgerald's six-decade career began in the 1930s. Her scat singing on "How High the Moon" and her work with Louis Armstrong are legendary. Fitzgerald's 13 Grammy Awards and collaborations with Duke Ellington showcase her versatility. Her fight against racism, including a lawsuit against Pan Am, adds to her legacy. She passed away in 1996.
Nat King Cole
(1919 – 1965)
Nat King Cole's smooth baritone voice and piano playing made him a star in the 1940s-60s. Known for "Unforgettable" and "Mona Lisa," Cole's television show broke racial barriers. His work with the Nat King Cole Trio and his fight for civil rights, including integrating an all-white neighborhood, make him an enduring figure in music history.
Sarah Vaughan
(1924 – 1990)
With a four-octave vocal range, Sarah Vaughan became a jazz icon in the 1940s-80s. Her work on "Misty" and performances with Clifford Brown are standout moments. Vaughan's collaborations with Quincy Jones and her ability to blend jazz with classical techniques make her one of the most innovative singers in jazz.

Betty Carter
(1929 – 1998)
Betty Carter's adventurous vocal style in the 1950s-90s, including her work on "The Audience with Betty Carter," made her a unique voice in jazz. Her mentorship of young musicians and her insistence on creative control in a male-dominated industry set her apart. Carter's collaborations with Ray Charles and her influence on modern jazz singing make her a pivotal figure in jazz.
Best Jazz Pianists or Keyboardists of All Time
The piano's harmonic capabilities and expressive range have made it a central instrument in jazz since the ragtime era. From stride piano to modern jazz, the "ebony and ivory" has been a driving force for the best jazz artists of all time.
Of course in attempt to limit it to just 50, there are many musicians deserving of this list that aren't included, such as Count Basie and Nat King Cole. Their contributions as pianists are as significant as those included. Together they have expanded the possibilities of the piano and keyboard, leaving an indelible mark on jazz history.
Duke Ellington
(1899 – 1974)
Famous in the 1920s-50s, Ellington was a prolific live performer and bandleader. His major accomplishments include composing over 1,000 songs and winning 12 Grammy Awards. Famous songs include "Mood Indigo" and "Take the 'A' Train." He led the Duke Ellington Orchestra and is celebrated for his contributions to the Harlem Renaissance. Ellington's innovative compositions make him one of the best Jazz artists ever.
Art Tatum
(1909 – 1956)
Art Tatum, a live performer in the 1930s-50s, was known for his incredible technique. His major accomplishments include pioneering jazz piano solos, and his famous recordings like "Tea for Two" remain influential. His technique and speed set a new standard for jazz piano.
Mary Lou Williams
(1910 – 1981)
A versatile artist, Mary Lou Williams played with Andy Kirk's band and wrote for Duke Ellington in the 1920s-70s. Her famous "Zodiac Suite" and mentorship of younger musicians make her a standout figure in jazz history.
Thelonious Monk
(1917 – 1982)
Thelonious Monk's unique style in the 1940s-60s, characterized by dissonant harmonies and angular melodies, made him a standout pianist and composer. His work on "Brilliant Corners" and compositions like "'Round Midnight" are seminal. Monk's collaborations with John Coltrane and his eccentric performances, often dancing around the piano, make him a fascinating figure in jazz history.
Dave Brubeck
(1920 – 2012)
Dave Brubeck, active in the 1950s-70s, was known for hits like "Take Five." Leading the Dave Brubeck Quartet, he experimented with time signatures and contributed to cool jazz. Both a studio musician and live performer, his creativity places him among the best.

Bud Powell
(1924 – 1966)
Bud Powell's bebop style made waves in the 1940s-60s. Performing live with Charlie Parker and Dizzy Gillespie, his influence on modern jazz piano is profound. Works like "Tempus Fugit" secure his place as a key figure in jazz.
Bill Evans
(1929 – 1980)
Active in the 1950s-70s, Evans was a studio musician known for his work with Miles Davis, including "Kind of Blue." He led the Bill Evans Trio and contributed to modal jazz. His lyrical style and innovative chord voicings make him one of jazz's great pianists.
Nina Simone
(1933 – 2003)
Famous in the 1950s-70s, Simone was a live performer known for blending jazz with pop, gospel, and R&B. Famous songs include "Feeling Good." Simone was also an activist in the Civil Rights Movement. Her unique voice and versatility make her a standout artist.
Herbie Hancock
(1940)
Herbie Hancock's innovative work since the 1960s includes the groundbreaking album "Head Hunters" and the hit "Chameleon." Playing with the Miles Davis Quintet and exploring electronic music, Hancock's genre-crossing work has influenced jazz, funk, and pop. His film scoring and philanthropy add to his multifaceted career, making him a true jazz pioneer.

Chick Corea
(1941 – 2021)
Chick Corea's fusion work with Return to Forever in the 1970s and his explorations in acoustic jazz set him apart. Albums like "Light as a Feather" and collaborations with Gary Burton showcase his versatility. Corea's mastery of keyboards and synthesizers, along with his work in Latin jazz, make him an influential figure. He passed away in 2021.
Best Jazz Guitarists of All Time
The guitar has been responsible for evolution of jazz since the early 20th century. From Django Reinhardt's gypsy jazz to the birth of  jazz fusion in the 1960s, a blend of jazz improvisation with rock, funk, and R&B. Jazz fusion became famous for its energetic and experimental sound. Artists like Al Di Meola played a significant role in this movement, using highly skilled guitar techniques to bridge traditional jazz with other musical styles. The fusion era showcased the guitar's potential for innovation and expression, and the best jazz guitarists of all time in this section have continued to push the boundaries of the instrument, influencing generations of players and shaping the sound of jazz.

Django Reinhardt
(1910 – 1953)
Co-founding the Quintette du Hot Club de France in the 1930s-40s, Django Reinhardt's famous songs include "Minor Swing." He performed with Stéphane Grappelli and played the violin. Reinhardt's gypsy jazz style influenced many genres, and he's a jazz guitar legend. He passed away in 1953.
Charlie Christian
(1916 – 1942)
A key figure in the late 1930s-40s, Charlie Christian played with Benny Goodman's band. Notable for his electric guitar work, he contributed to "Solo Flight." Christian's influence on bebop and jazz guitar was profound. He passed away young in 1942 but left a lasting legacy.
Wes Montgomery
(1923 – 1968)
Known for his unique thumb-picking technique in the 1950s-60s, Wes Montgomery played on "The Incredible Jazz Guitar of Wes Montgomery" and performed with his brothers. He also played the double bass. Montgomery's influence spans jazz and pop, and he passed away in 1968.
Jim Hall
(1930 – 2013)
Celebrated for his subtlety in the 1950s-60s, Jim Hall's studio work includes "Undercurrent" with Bill Evans. He played with Sonny Rollins and Art Farmer. Hall's influence on jazz guitar and his collaborative spirit make him a standout artist. He passed away in 2013.
John McLaughlin
(1942)
John McLaughlin's work in the 1960s-70s with the Mahavishnu Orchestra and on Miles Davis's "Bitches Brew" made him a fusion pioneer. His explorations in Indian classical music and collaborations with Carlos Santana set him apart. McLaughlin's technical mastery and spiritual approach to music make him one of the most innovative guitarists in jazz.
George Benson
(1943)
Winning 10 Grammy Awards since the 1960s, George Benson's notable albums include "Breezin'." He performed with Jack McDuff and played the organ. Benson's smooth jazz and R&B crossover success, along with his engaging performances, make him a jazz legend.
Allan Holdsworth
(1946 – 2017)
Known for his work in jazz fusion and progressive rock in the 1970s-80s, Allan Holdsworth played on "Believe It" with Tony Williams and performed with Soft Machine. Holdsworth also played the SynthAxe. His innovative techniques and work across genres make him one of the best jazz artists. He passed away in 2017.
Paco de Lucía
(1947 – 2014)
A master of flamenco guitar, Paco de Lucía's work in the 1970s-80s transcended traditional Spanish music. His album "El Duende Flamenco" and collaborations with Tomatito showcase his virtuosity. De Lucía's performances with Al Di Meola and John McLaughlin brought flamenco to the jazz world, making him a groundbreaking artist. He passed away in 2014.
Al Di Meola
(1954)
Pioneering jazz fusion in the 1970s-80s, Al Di Meola's major accomplishments include albums like "Elegant Gypsy." He played with Return to Forever and collaborated with Paco de Lucía and John McLaughlin. Known for his virtuosity, he's also skilled at percussion. Di Meola ventured into world music and is considered one of the best jazz guitarists.
Pat Metheny
(1954)
Since the 1970s, Pat Metheny's genre-defying work includes the Pat Metheny Group and albums like "Still Life (Talking)." His use of the guitar synthesizer and collaborations with artists like Lyle Mays have expanded the guitar's role in jazz. Metheny's 20 Grammy Awards across various genres attest to his exceptional talent and influence.
Best Jazz Bassists of All Time
The bass is the rhythmic foundation of jazz music, giving bassists an integral spot among the best jazz musicians of all time. Its evolved over the years, from the upright bass in early jazz to the electric bass in jazz fusion. And its role has expanded over the decades as well, becoming a lead instrument in many modern ensembles. These bassists have redefined the instrument's role, contributing to the richness and diversity of jazz, as well as the genres it has influenced.
Oscar Pettiford
(1922 – 1960)
A pioneer of bebop in the 1940s-50s, Oscar Pettiford played with Duke Ellington and Charlie Parker. His work on "The New Oscar Pettiford Sextet" and his ability to play the cello in a jazz context are notable. Pettiford's influence on modern jazz bass playing makes him a legend.
Charles Mingus
(1922 – 1979)
Composer, bandleader, and bassist, Charles Mingus's work in the 1950s-70s includes "Mingus Ah Um." He performed with Duke Ellington and collaborated with Eric Dolphy. Mingus also played the piano and was known for his activism. His contributions to jazz composition and performance make him one of the greats.
Ray Brown
(1926 – 2002)
ay Brown's warm tone and impeccable timing made him a sought-after bassist from the 1940s-90s. He played with the Oscar Peterson Trio and on Ella Fitzgerald's famous songbooks. Brown's influence on jazz bass and his mentorship of young musicians are notable. He passed away in 2002.
Paul Chambers
(1935 – 1969)
Known for his work in the 1950s-60s, Paul Chambers played on "Kind of Blue" with Miles Davis. He performed with John Coltrane and was known for his arco technique. Chambers's contributions to hard bop and his lyrical playing style make him a jazz bass icon. He passed away in 1969.
Ron Carter
(1937)
Playing on over 2,200 albums since the 1960s, Ron Carter's work with the Miles Davis Quintet and on "Maiden Voyage" is renowned. Carter's elegant playing and collaborations with Herbie Hancock make him a jazz legend. He's also an educator, contributing to the next generation of musicians.

Dave Holland
(1946)
Since the 1960s, Dave Holland's work with Miles Davis on "Bitches Brew" and his leadership of various ensembles have earned acclaim. Holland's innovative compositions and collaborations with Chick Corea make him a significant figure in jazz. He's explored avant-garde and free jazz, adding to his versatility.
Jaco Pastorius
(1951 – 1987)
Revolutionizing electric bass in the 1970s, Jaco Pastorius played with Weather Report and Joni Mitchell. His self-titled debut album and work on "Heavy Weather" are legendary. Pastorius's harmonics and fretless playing influenced many genres. Tragically, he passed away in 1987, leaving an enduring legacy.
Stanley Clarke
(1951)
Since the 1970s, Stanley Clarke's fusion work with Return to Forever and his solo albums like "School Days" have made him a standout bassist. Clarke's live shows are energetic, and he's played with Chick Corea. His work in film scoring and various musical genres adds to his acclaim.
Victor Wooten
(1964)
With Bela Fleck and the Flecktones and his family band the Wooten Brothers, Victor Wooten has become a bass icon since the 1980s. Known for his soloing and slap techniques, Wooten has not only been a notable musician, but transformed the way the instrument is played. His signature double thumb technique, a variation of slap bass using his thumb like a pick for extremely fast solos, is now imitated by talented bass players all over the world. And his live performances are as electrifying as his technique, twirling guitars, and with comedy routines and skits. In addition to jazz, he's extremely versatile, having performed and recorded in numerous genres, including bluegrass, rock and funk. There are very few like Victor Wooten that literally do it all, in every aspect of the instrument.
Esperanza Spalding
(1984)
A rising star since the 2000s, Esperanza Spalding's accomplishments include a Grammy for Best New Artist and performances at the White House for the Obamas. She's played on "Emily's D+Evolution" and performed with Prince. Spalding's vocals, equally as impressive as her double bass playing, have broken the glass ceiling in an instrument historically dominated by men. Her work in various genres, combined with her exceptional skills as both a jazz singer and bassist, make her a unique and influential artist.
Best Jazz Trumpet Players of All Time
The bright and piercing sound of the trumpet has been synonymous with jazz since the early days of New Orleans jazz bands. Its role has evolved through the big band era, bebop, and beyond, but it has remained a prominent voice in the genre. The best jazz artist of all time in this section have help define the trumpet's sound, and shaped the genre in doing so.
While the trumpet is the only instrument in the brass family on this list, that doesn't mean it's the only brass instrument to make an impact on jazz. Players like J.J. Johnson have also skillfully graced the trombone. Their influence is as noteworthy as these trumpet elites.
Louis Armstrong
(1901 – 1971)
With a career spanning five decades from the 1920s, Louis Armstrong's gravelly voice and innovative trumpet playing made him a jazz legend. Known for "What a Wonderful World" and "Hello, Dolly!", he performed with the Hot Five and Hot Seven. Armstrong's charismatic performances and contributions to scat singing transcended jazz, influencing popular music. He passed away in 1971.
Dizzy Gillespie
(1917 – 1993)
Dizzy Gillespie's bebop revolution in the 1940s-60s included the creation of Afro-Cuban jazz. His bent trumpet and puffed cheeks became iconic, and his work on "Salt Peanuts" and "A Night in Tunisia" is legendary. Gillespie mentored young musicians like Miles Davis and played with Charlie Parker. His influence on jazz trumpet and composition is unparalleled.
Miles Davis
(1926 – 1991)
A transformative figure in jazz, Miles Davis's work from the 1950s to the 1990s includes "Kind of Blue" and "Bitches Brew." Davis's collaborations with John Coltrane and Herbie Hancock, his exploration of fusion, and his ever-evolving style make him one of the most influential musicians of the 20th century. He passed away in 1991.
Chet Baker
(1929 – 1988)
Chet Baker's cool jazz sound in the 1950s-60s, coupled with his singing on albums like "Chet Baker Sings," made him a standout artist. His collaborations with Gerry Mulligan and his haunting rendition of "My Funny Valentine" are memorable. Baker's troubled life and mysterious allure added to his legend. He passed away in 1988.
The Brecker Brothers
(1945)
Individually Randy and Michael Brecker's reputations fall short of others on this list. So we're doing a 2-for-1 to include them, because together as the Brecker Brothers the amazing music they created is as worthy as anyone. With Randy on trumpet and Michael on sax, the Brecker Brothers brought jazz fusion to the forefront in the 1970s-80s. Their work on albums like "Heavy Metal Be-Bop" and performances with Bruce Springsteen and Frank Zappa showcased their versatility. Randy's flugelhorn playing and Michael's EWI (Electronic Wind Instrument) work added to their unique sound. Michael's passing in 2007 marked the end of an era, but their influence on jazz and pop continues.
Best Jazz Saxophonists of All Time
The saxophone's expressive capabilities and distinct sound have made it a defining voice in jazz since as early as the 1920s. It has been at the forefront of jazz's evolution. The best jazz artists of all time listed here have left a lasting impact on jazz, with impressive creativity and mastery. Not included but deserving of mention are Lester Young, Wayne Shorter, and Stan Getz, whose contributions continue to resonate.
Coleman Hawkins
(1904 – 1969)
Dubbed the "Father of the Tenor Saxophone," Coleman Hawkins's influence began in the 1920s and continued for decades. His rendition of "Body and Soul" is a jazz standard, and his work with Fletcher Henderson's orchestra set the stage for future saxophonists. Hawkins's rich tone and innovative improvisation make him a foundational figure in jazz.
Charlie Parker
(1920 – 1955)
Charlie "Bird" Parker, a leading figure in the development of bebop in the 1940s-50s, played with dizzying speed and complexity. His work on "Ko-Ko" and collaborations with Dizzy Gillespie are legendary. Parker's tragic life and extraordinary musicianship have made him an enduring symbol of artistic genius. He passed away in 1955.
John Coltrane
(1926 – 1967)
John Coltrane's spiritual and exploratory playing in the 1950s-60s, particularly on albums like "A Love Supreme" and "Giant Steps," revolutionized jazz. Coltrane's collaborations with Miles Davis and Thelonious Monk, his mastery of soprano sax, and his pioneering of modal jazz and free jazz make him one of the most influential musicians in history.
Ornette Coleman
(1930 – 2015)
Ornette Coleman's avant-garde approach in the 1960s, including his development of "harmolodics," challenged traditional jazz structures. His album "The Shape of Jazz to Come" and his work with his band Prime Time are groundbreaking. Coleman's violin and trumpet playing, along with his fearless experimentation, make him a unique and influential figure in jazz.
Sonny Rollins
(1930)
Known for his robust sound and thematic improvisation, Sonny Rollins became a jazz icon in the 1950s-60s. His albums "Saxophone Colossus" and "The Bridge" are classics, and his performances with the Max Roach/Clifford Brown band are notable. Rollins's sabbaticals to focus on self-improvement and his continuous evolution as an artist add to his mystique and legacy.
Best Jazz Drummers of All Time
Drums are the heartbeat of not only jazz, but all music. They drive the rhythm and create a sort of guide rail for the other instruments, which has played a vital role in shaping the genre's feel and direction. The drummers on this list have out of the box creativity, expanding the instrument's vocabulary, influencing the way rhythm is approached. Their contributions to the best jazz artists of all time plays an essential role in jazz music.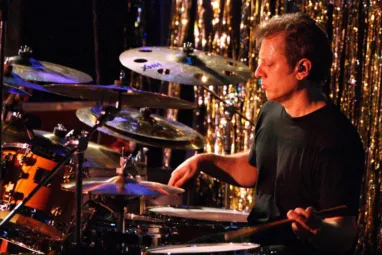 Art Blakey
(1919 – 1990)
A force in the 1950s-70s, Art Blakey led the Jazz Messengers, a proving ground for young talents. Known for albums like "Moanin'," he played with Thelonious Monk and Horace Silver. Blakey's powerful drumming and mentorship of young musicians make him a jazz legend. He passed away in 1990.
Max Roach
(1924 – 2007)
Max Roach's innovative drumming in the 1940s-60s helped define bebop. He co-founded Debut Records and played on "Clifford Brown & Max Roach." Performing with Charlie Parker and Dizzy Gillespie, Roach also composed music and played piano. His activism and contributions to percussion make him one of jazz's greats.
Elvin Jones
(1927 – 2004)
Playing with John Coltrane's classic quartet in the 1960s, Elvin Jones's polyrhythmic style revolutionized jazz drumming. He appeared on "A Love Supreme" and performed with Wayne Shorter. Jones's energetic performances and ability to adapt to various musical contexts make him a standout artist. He passed away in 2004.
Tony Williams
(1945 – 1997)
Bursting onto the scene as a teenager in the 1960s, Tony Williams played with Miles Davis on "E.S.P." and formed the Tony Williams Lifetime. Known for his technique and speed, Williams also ventured into jazz fusion. His influence on modern drumming and genre-crossing work make him one of the best.
Dave Weckl
(1960)
Famous since the 1980s, Dave Weckl's fusion style has earned him acclaim. He played with the Chick Corea Elektric Band and on albums like "Master Plan." Weckl's technical prowess, notable live shows, and work in various genres, including Latin jazz, make him a versatile and influential drummer.
Jazz is the intersection of tradition and innovation
... Where the unexpected becomes the norm. The 50 best jazz artists of all time are premier examples of the skill and versatility required to be successful as a jazz musician. They have mastered their craft and expanded the horizons of what is musically possible. Together they have defined and redefined jazz, influenced countless other genres, even inspired social movements, and fostered a sense of community and connection that transcends race, gender and other barriers.
Of course this is not a definitive list. We admit it is highly subjective, and leaves out some of the best jazz musicians of all time that are also deserving. But the beauty of jazz lies not in its limitations, but in its endless capacity for reinvention, and the best jazz musicians on this list have exemplified that, with skill, improvisation, and the timeless magic of creativity.